Let's be honest! This is definitely not the first time you're coming across the word "customer retention strategies" In fact, I did hear it once this morning when one of my fellow marketers asked me "What are some of the best online customer retention strategies?" And that's when I decided to come up with a read that has some of the best user retention strategies around.
Before we get to the core part of the read, let's talk about why you should make use of customer retention tactics for your business!
Why You Should Use Customer Retention Strategies?
Where do I start? It's just that the advantages of using customer retention strategies are huge and I really don't want to miss out on anything of significant importance! Anyways, I've compiled a list of the most prominent ones here. Let's take a look, shall we?
1. Extremely Cost Efficient
You might have come across a lot of reads about customer acquisition and customer retention. And most of them say that it costs you multiple folds to acquire a customer when compared to retaining one. It's actually true!
Acquiring a new customer for your business can cost you five times more than retaining an existing customer. Because for an existing customer, a little nudge would do the job whereas for acquiring a new customer, you've got to spend a fortune (ads mostly)! Imagine doing the same for hundreds of them! You get the math, right?
2. Increased Conversion Rates
This is the super cool part when it comes to customer retention. You're dealing with someone who has already purchased your products and is on good terms with you. So, if you're planning to come up with a new product or its seasonal sales time, all you have to do is, outreach, let them know what it's about and they'll be happy to play a role in increasing your conversion rates.
3. Higher Profits
Increased conversion rate means increased profits. Like I already said, retaining your existing customers can be an ideal opportunity to increase your sales figures. Remember, the more you concentrate on customer retention, the higher your profits are going to be in the long run. How? It's explained in the point below.
4. Loyal Brand Advocates
Over a period of time, when you've managed to master customer retention tactics, your brand will have a considerable number of loyal customers who will not only purchase but spread the word about how good you and your brand are. The chain reaction is so quick that you can expect increased sales and revenue in no time.
It's more like a cycle – you'd have to make sure that you retain the new customers and they'll be spreading the word all over!
"Customer Retention is a consistent cycle which you set off and is run by your customers."
And if you're still not convinced about retaining customers on your website, these customer retention statistics will help you decide!
The probability of selling to an existing customer is between 60-70% whereas, for a new customer, it's only 5-20%.
A huge 65% of a company's revenue comes from existing customers.
Existing customers who are loyal and dedicated are known to spend 67% more than new customers.
Customer acquisition costs 7x more (approximately) when compared to customer retention.
Increasing your customer retention rate by a mere 5% can boost your profit by a minimum of 25%.
So, how does customer retention sound now? Cool right? Great! Let's get to the best online customer retention strategies/customer retention program ideas without any further delay!
6 Best Customer Retention Program Ideas for Your Business
We're here! The below-mentioned customer retention strategies are suitable for both b2b companies and eCommerce stores!
1. BIG Day Surprises
It's the one day of the year where every normal person would want to be given special attention. And if you're able to give them that, you'll be in their good books for a very very long time!
Yes! Sending birthday wishes to your customers is one of the best customer retention strategies that is now being used by most businesses. In fact, certain businesses have gone the extra mile and have started to gift their customers' personalized gift cards or percentage discounts.
If I were in the place of a receiver, I'd definitely start to feel a connection with the brand – it doesn't matter how my past interactions with them have been! They've made me feel special on my big day and I've fallen for it!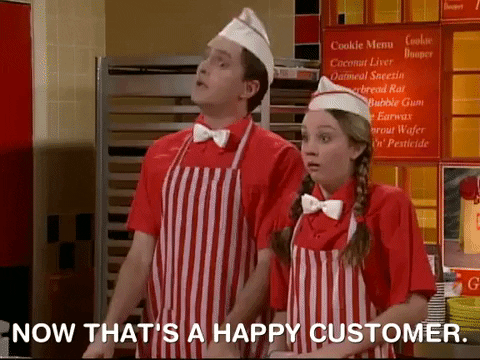 You can simply send a text message over an email or make it huge by sending a personalized gift card along with some free goodies!
Either way, user retention is in play!
2. Sell & Educate Simultaneously
It's great that you've come up with a product and the fact that you're actually able to scale it is even better!
But on the other hand, you're not actually done when your customer purchases it from you! It's just the beginning. Most of the SaaS companies today, provide an onboarding session/product tour when a customer purchases their product.
And the reason behind this is to understand the end-user and build a custom relationship with them which in turn would increase customer retention and help with the upsell process later.
You can take the relationship-building process to a whole new level by letting your customers know when you introduce a new feature. Tell them how profiteering and beneficial the new feature could be for their business.
In other words, you're being in constant touch with your customers and ensuring that they are using your product. And no customer of yours would want to leave when they're getting the best in the industry hacks consistently.
It's best that you do this via emails which helps with the personalization factor! You can also make use of various mediums like webinars, blogs, podcasts – it's totally up to you!
Building a proper email list will help you more in sending the right message to the right user.
3. Customer Loyalty Points Program
Customer retention and loyalty points programs go hand in hand. In fact, loyalty points program is one of the best customer retention program ideas that most eCommerce stores make use of.
A loyalty points program is nothing but a system where you reward your customers when they do specific revenue-driving actions on your store – purchase products, write product reviews, refer a friend and more.
The more points the customer earns, the higher his/her discounts will be in the long run. Also, loyalty points psychologically make the person feel happy by giving them a sense of accomplishment.
And the fact that they're able to bargain the price makes them feel more invested and stay for a longer period of time. It's actually a win-win situation – increased customer retention rate and new purchases on the way!
P.S. If you're looking for a loyalty points plugin, you should probably go with this one!
4. Get Feedbacks from Customers
A customer always loves to voice out their opinion. And when they're given the opportunity or the platform to be heard, he/she would gleam with joy!
Brands that resonate with their customers and take constructive feedback into account have increased their customer retention rate to a huge extent. Valuing customer feedbacks will indirectly reduce your website bounce rate, when you make a feel like a part of the inner circle they tend to spend more time on your website.
And since getting feedback is no big deal, you ought to do this time and then! You can personally reach out to your customers via email and know how they feel about your product/services or you can consider displaying a feedback popup like this one here.
You can take into account the most valuable ones or the ones you think would help grow your business and make the necessary improvements.
And here's the part where you can actually leverage this.
"Once when you are done processing your customer's feedback, let them know that you found their feedback useful and how much they mean to you and your business!"
Doing it this way lets them know that you actually care and they'll have no second thoughts about switching over to yLearn how to improve your customer retention rate and to grow your sales in this read. We've come up with 6 best customer retention strategies that works!our competitors!
After all, at the end of the day, it's your customers who should be feeling happy. And you've got to give them what they want.
P.S. Optinly comes with pre-existing feedback popup templates which makes it easy for you to create popup campaigns on the go.
That is one fine retention strategy for customers, ain't it? Okay, let's move on to the next one!
5. Target Existing Customers With Personalized Offers
Start off by segregating your customer base into two categories!
Customers who have been actively purchasing from your store
Customers who have not purchased from your store for a very long time
You can get this list easily by taking a look at your CRM software. Once you're ready with this list, start sending personalized emails with special discounts to your customers.
Here is a sample email template for the first category – active customers!
Email Template 1
Hi xxx,

We're glad to have you on-board as one of XXXXX's customers! Also, we hope you're glad with your last purchase with us!

Since you've purchased xxxx, we thought you might find xxxx useful as well! Also, you get a flat 30% discount!

Feel free to reach out to us if you have any queries!

Happy Shopping!

Regards,
xxx
And here is a sample email template for the second category – dormant customers!
Email Template 2
Hi xxx,

We miss you at xxxx!

Since it has been quite some time you purchased from our store, we wanted to know what's holding you back!

We'd like to hear you out if there's something you need to tell us.

Also, we're giving you a 30% discount on your next purchase (use coupon code – xxx)!

Looking forward to hearing from you!

Regards,
xxx
The first email template will let your customer know how much you care about them. And if they find your product recommendation useful, it's a conversion.
While the second email template is an effort to retain your customers by making sure that they don't switch to your competitors.
Caring and empathizing is another effective user retention strategy which when leveraged can give huge results!
6. Seamless Customer Support Experience
Whether it's a package return request on your eCommerce store or a troubleshoot request for your SaaS product, you've got to make sure that you/your customer support team is quick to address the issue and resolve it.
Delayed response and lack of knowledge during queries are one among the top reasons why customers prefer to switch brands/services.
The average customer response time is 12 hours and 10 minutes which is way too long. Make sure you come up with a framework where your customer queries are solved as soon as possible. Because you never know what kind of fix your customer might get into and how it may reflect on his/her business!
Also, try not to lose "QUALITY" by focusing on "SPEED". Cracking this user retention strategy well can help increase your customer retention rate to a great extent.
So, make sure that every interaction you have with your customer is memorable and worthy enough to promote Word of mouth marketing!
Final Few Words
Brian Balfour once said "If your retention is poor, then nothing else matters" and I couldn't agree more with him!
When you've failed to implement the best customer retention strategies or you've simply overlooked the importance of user retention, you might as well start doing something else!
Because when it comes to running online businesses that involve customers, it's all about making sure how much your customers would want to stick with you and avail your services/products.
Like I already mentioned above, existing customers are a great way to promote your sales and revenue. And they also act as the unsung heroes that help you drive more sales and conversions in the long run.
Now that you've come across the importance of user retention and some of the best customer retention program ideas, you're only a few steps away from increasing your customer retention rate.
Remember, every step executed right can help improve your retention to a great extent! Let us know what's going to be your pick!
Cheers!